UPDATE 8-6-13:  Benchwork (some of it) in the Room!
It's a banner day here for the Richlawn RR V2 as today I put three sections of the benchwork in the room and connected them together!  At the rate I was progressing there were times when I thought that this day would never come.
This first view is from the hall looking in to the back wall.  The left section will contain Hoovertown (with a Doodlebug stop), the center section (with no legs) will contain industry for switching, and the right section will have a mountain area along with a trestle.  The sections are 34-1/2″ deep and the area is 10ft wide.  By the way, I made the sections 34-1/2″ wide so they would go through my 35″ wide doorways.  What I didn't take into account was the space the door took up.  I ended up taking the auto closer off my screen door on my back porch so I could open the door 180 thus giving me the 35″ opening.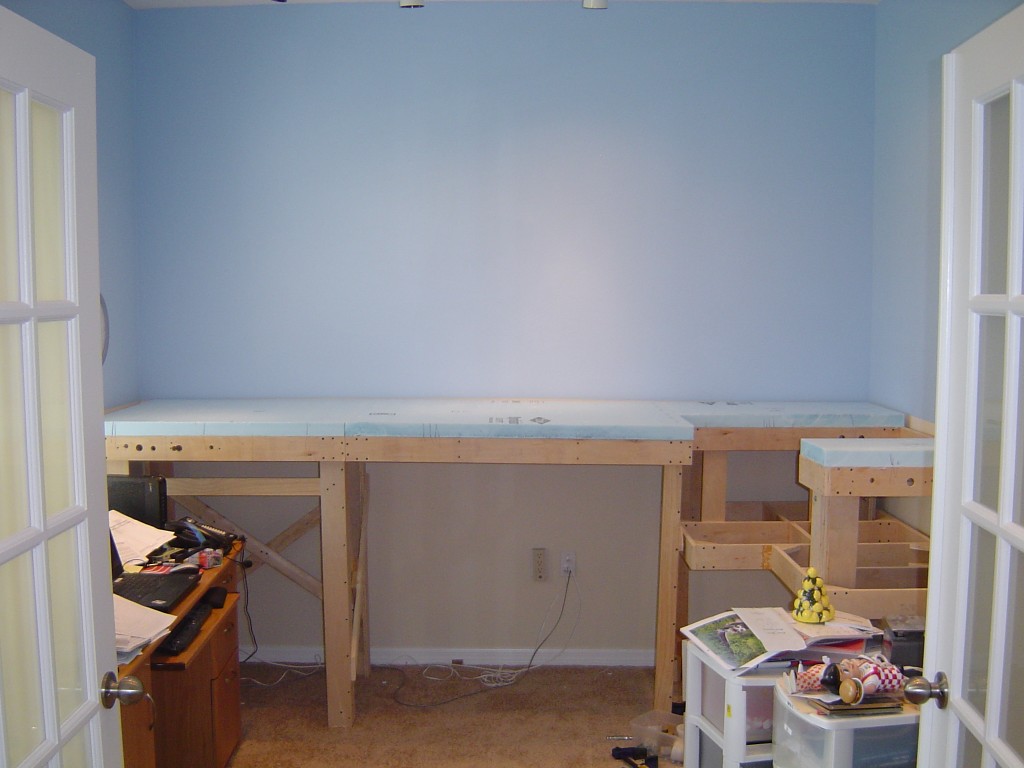 The left side section will connect to the corner section and run parallel to the window wall.  This area will contain Hoovertown with a Doodlebug stop.  I'll have to wait on installing those sections so that I can apply the UV film to the windows and decide how I am going to handle the windows.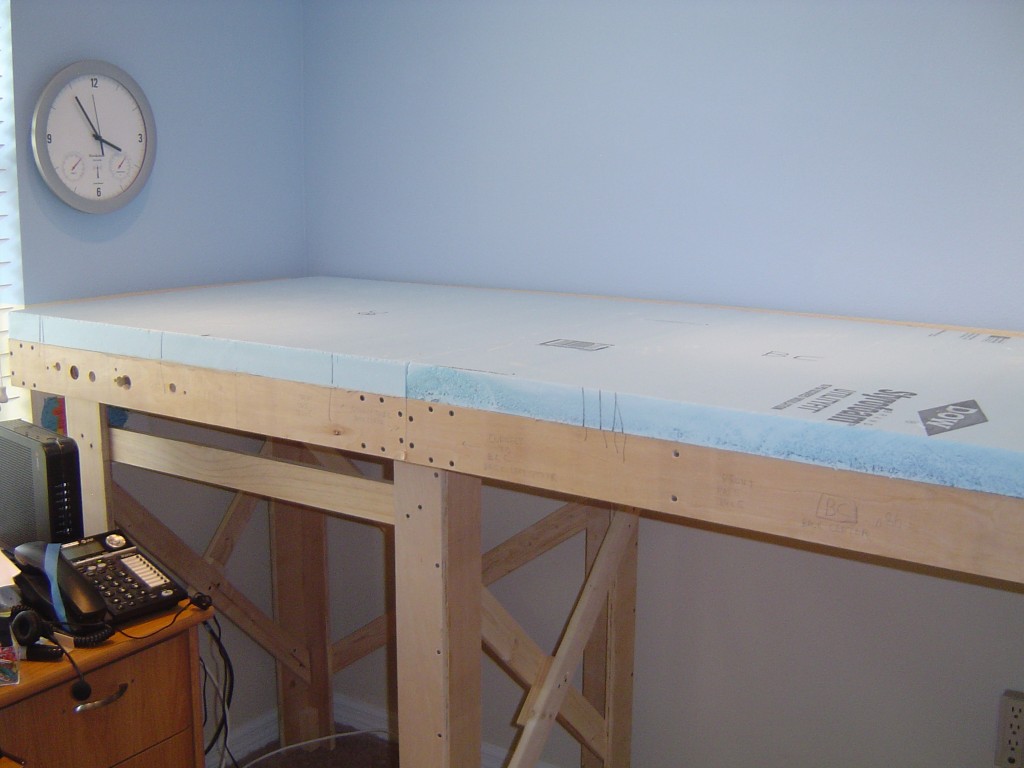 The trestle will be in this back corner and will bridge either a dry gulch or steam / river with a waterfall – yet to be determined.  The right wall benchwork attach to the small section on the right.  I can't install those yet until I reverse my French doors.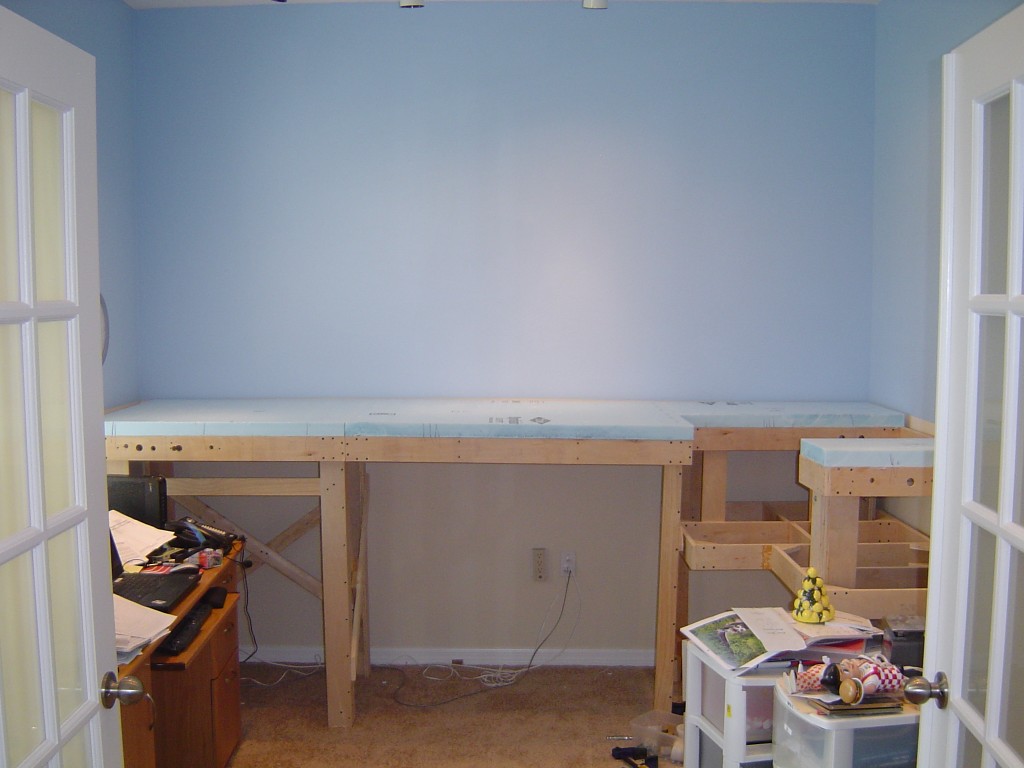 Almost all of the benchwork frames have been constructed except the gate portion which I will build once the benchwork is secured in place in the layout room.  I've also constructed all of the legs with levelers.   In the pictures below I've clamped the sections together to see how they fit.  I still need to add connecting bolts and registration pins (3/8″ dowel rods) along with leg bracing.
Here you can see the right rear corner section with the back center section and the right center section clamped in place.  The right rear corner section will feature a dropped area containing a trestle thus why there is a double structure in that portion.
=================================================================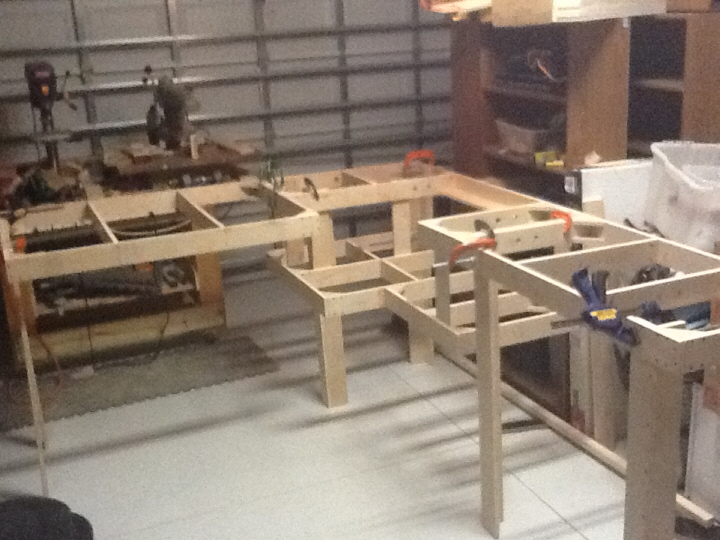 Here you can see the three left wall sections.  Going from front to back:  Left front corner section, middle left section, and left rear corner section.