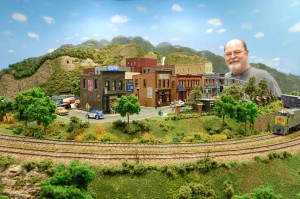 As a boy I grew up in St. Matthews, Kentucky in a small subdivision named Richlawn during the 60's watching the L&N trains that passed just 200 feet in back of my house.  I had a small model railroad that my Father helped me build when I was 8 years old and I've always been fascinated by trains.  After much thought I decided to try and recreate the time and location of my fond childhood memories and so the Richlawn Railroad was born.
***** UPDATE *****
The Richlawn Railroad has been torn down and it no longer exist as we moved to a new home.
The new Richlawn Railroad V2 is under construction in our new Florida home.  It is a "around the room" shelf style layout and of course still features the L&N.